Car Repair Website Design: Revving Up Your Online Presence
Before we start discussing the road to a stellar Car Repair Website design with a proper appointment booking system and the features that we are going to implement in it. In case you want to message us right away simply click on the WhatsApp button at the top of the Website, it looks like a phone icon. If you are thinking about a DIY website or you want to see what we implement simply keep reading the article.
In the fast-paced digital age, having a strong online presence is essential for businesses in every industry, and the automotive repair industry is no exception. In today's world, a well-designed website can be the key to attracting new customers, showcasing your expertise, and staying ahead of the competition. Welcome to the world of Car Repair Website Design, where we transform your online identity into a turbocharged powerhouse that drives success.
The Road to a Stellar Website:
Crafting a Digital Masterpiece:
Your website is often the first interaction potential customers have with your car repair business. Just as a well-maintained engine runs smoothly, a meticulously designed website can effortlessly guide users through your services, building trust from the very start.
The User Experience Matters:
In the world of web design, user experience (UX) is king. A well-structured website with intuitive navigation can keep visitors engaged and convert them into paying customers. Our designs prioritize usability, ensuring your website visitors feel as comfortable as they would in your auto repair shop.
Aesthetics that Impress:
Beauty is more than skin deep, and the same goes for websites. An eye-catching, professional design can make a powerful first impression. With our expertise in car repair website design, we blend aesthetics and functionality seamlessly, giving your online presence the "wow" factor.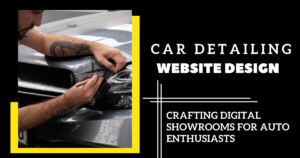 Fueling Your Online Success:
Search Engine Optimization (SEO):
In the vast online landscape, being discovered is half the battle. Our car repair website designs are crafted with SEO in mind, ensuring your website ranks high on search engine results pages. When it comes to SEO, we put your website in the fast lane.
Mobile Responsiveness:
In an age where mobile devices dominate internet usage, a mobile-responsive website is non-negotiable. Our designs adapt flawlessly to various screen sizes, ensuring that your potential customers can access your website wherever they are.
Speed Matters:
A sluggish website can send visitors racing away. We optimize website performance, making sure your pages load at lightning speed. Our focus on speed enhances user satisfaction and search engine rankings.
Why Choose Car Repair Website Design?
Expertise in the Automotive Industry:
Our team specializes in car repair website design, bringing an in-depth understanding of your industry's unique needs and challenges. We tailor our solutions to meet your specific requirements.
Results-Driven Approach:
We don't just design websites; we drive results. Our focus is on improving your online presence, increasing traffic, and ultimately, boosting your bottom line. Your success is our success.
Creative Innovation:
In the world of web design, creativity knows no bounds. We constantly push the envelope, incorporating the latest design trends and technologies to ensure your website stands out from the competition.
Client Success Stories: Driving Results
Boosting Business with a New Website:
A renowned car repair shop, approached us with the goal of revamping their online presence. With a visually appealing and user-friendly website, they saw a  increase in website traffic within the first months.
SEO Supercharge:
A local auto repair shop, struggled to rank on search engines. After our SEO-focused redesign, they experienced a increase in organic search traffic, leading to a boost in revenue.
The Pit Stop: Maintenance and Support
Continuous Improvement:
In the automotive world, regular maintenance keeps vehicles running smoothly. Similarly, we offer ongoing support and maintenance to ensure your website remains in peak condition. As technology evolves, we're here to keep your website up to date.
Security First:
Security is paramount in today's digital landscape. We implement robust security measures to protect your website and your customers' data. You can rest easy knowing that your online presence is in safe hands.
Responsive Customer Support:
Just as your car repair shop provides exceptional customer service, we do the same. Our responsive customer support team is ready to address any issues and answer your questions promptly.'
Conclusion: Take the Wheel of Your Online Success
In the digital age, a strong online presence can make or break your car repair business. A well-designed website is not just a virtual storefront; it's your opportunity to connect with potential customers, showcase your expertise, and leave a lasting impression.
At Car Repair Website Design, we're not just in the business of designing websites; we're in the business of driving results. Our expertise in the automotive industry, commitment to user experience, and focus on SEO and performance make us the ideal partner to accelerate your online success.
Don't let your online presence idle in the slow lane. Take the wheel and power up your business with a website that truly reflects your brand and expertise. Contact us today, and let's embark on a journey to rev up your online presence and drive success like never before. Your digital road to success starts here.
Related Terms to this article
car repair shop website designer
auto repair web designers
car repair website design