Mobile Detailing Website: Crafting the Perfect Online Presence for Your Business
In today's digital age, a strong online presence is paramount for any business looking to thrive and expand. For mobile detailing services, this principle holds true as well. Your potential customers are likely to turn to the internet when searching for car detailing solutions, and having a professional, user-friendly website can make all the difference. In this article, we will explore the significance of a mobile detailing website and delve into key aspects of website design that can set your business apart. Let's rev up those engines and navigate through the world of digital detailing!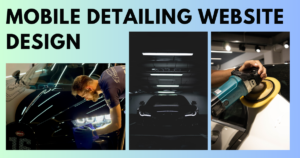 The Mobile Detailing Advantage
In the ever-evolving automotive industry, mobile detailing services have become increasingly popular. These services offer the convenience of having your vehicle cleaned and polished right at your doorstep, saving customers time and effort. As a mobile detailing business owner, you want to make sure that potential clients can easily find and learn about your services. This is where a well-designed website comes into play, serving as your digital storefront and the gateway to your services.
The Power of First Impressions
Your website is often the first point of contact between your business and potential customers. It's essential to make a strong first impression. A well-crafted website can convey professionalism, trustworthiness, and attention to detail, all of which are qualities customers look for in a mobile detailing service.
The Essential Elements of Website Design
Creating an effective mobile detailing website goes beyond simply having a web presence. It's about combining aesthetic appeal with functionality to provide a seamless user experience. Let's break down the essential elements of website design that can make your detailing business shine.
1. User-Friendly Navigation:
A user-friendly website navigation system is like a well-planned road map for your visitors. When potential clients land on your website, they should be able to easily find the information they need. This includes services offered, pricing, contact details, and booking options. An intuitive menu structure and clear call-to-action buttons can guide users effectively.
2. Visual Appeal:
In the world of car detailing, aesthetics matter, and your website should reflect that. High-quality images and videos showcasing your work can leave a lasting impact on visitors. Clean and appealing design choices, such as a color scheme that matches your branding, can make your website visually engaging.
3. Responsive Design:
In today's mobile-centric world, having a website that adapts to various screen sizes is crucial. A responsive design ensures that your site looks and functions well on desktops, smartphones, and tablets. This not only improves the user experience but also boosts your website's search engine ranking.
4. Informative Content:
Content is king on the internet, and it's no different for a mobile detailing website. Informative content can educate potential customers about your services, detailing processes, and the benefits of choosing your business. Regularly updated blogs can also help establish your expertise in the field.
5. Contact and Booking Options:
Make it easy for visitors to get in touch with you or book your services. Contact forms, clickable phone numbers, and online booking systems can streamline the customer journey. Ensure that these features are easily accessible from every page of your website.
The Art of Showcasing Your Work for mobile detailing website
One of the most effective ways to impress potential customers is by showcasing your work. As they say, a picture is worth a thousand words, and in the detailing business, this couldn't be more accurate. Your website should serve as a gallery of your best work.
The Role of High-Quality Imagery:
High-resolution images of your completed detailing projects can speak volumes about your skills and attention to detail. Whether it's capturing the glossy finish of a freshly waxed car or the transformation of a heavily soiled interior, images can convey the quality of your work better than any written description.
Before-and-After Galleries
Before-and-after photo galleries are a powerful tool in the mobile detailing business. They offer a visual narrative of the transformation your services can achieve. These galleries can instill confidence in potential customers, showing them the tangible results they can expect when choosing your services.
Regular Content Updates
Search engines favor websites that provide fresh and valuable content. Regularly updating your blog with informative articles not only engages your audience but also signals to search engines that your website is active and relevant.
The Power of SEO for mobile detailing website
Having a beautifully designed website is just one piece of the puzzle. To ensure that potential customers can find your business online, you need to optimize your website for search engines.
Encourage Customer Reviews
After completing a detailing service, encourage your clients to leave reviews on your website or on popular review platforms like Google My Business or Yelp. These reviews can serve as powerful social proof, assuring potential customers of your reliability and quality.
Building Trust with Testimonials
Testimonials are digital word-of-mouth recommendations that can significantly influence potential customers. When satisfied clients share their positive experiences on your website, it adds a layer of trust and authenticity to your business.
Conclusion: Driving Success with a Professional Website
In the world of mobile detailing, where first impressions and visual appeal matter greatly, a well-designed website can be a game-changer for your business. It serves as a powerful tool to showcase your work, build trust, and reach a wider audience.
Investing in a professional website not only enhances your online presence but also positions your mobile detailing business as a leader in the industry. So, buckle up, embrace the digital highway, and let your website drive your success! Remember, in the world of digital detailing, the journey begins with a click.